---
Links
Some other places to go on the internet.
---
---
Linux

Open source pioneer and Screen Savers guest, Eric S. Raymond, contrasts the "cathedral" model of conventional software development with the "bazaar" model of the Linux world. (A geek library selection)
Comic Strips

Helen the techno-geek goddess is kicking butt and taking names. That is, when she isn't having some kind of psychological crisis.

User Friendly is certainly the top geek comic strip on the web. I count myself as pretty computer savvy, but some of the punchlines go right over my head. For instance, Miranda's revenge on the script kiddies who took down the mail server. But that's okay, there's a discussion board for each daily strip where those-in-the-know enlighten the geek-impaired. It's educational. That's what I tell my boss, anyway.

Sluggy Freelance, my first online comic addiction. Two guys, some otherworldly adventures, and a switchblade-wielding rabbit. Riff's penchant for building weird gadgets and causing destruction reminds me of a certain show host we all know.
Serious Hardware And Help




---
TechTV Fansites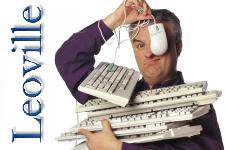 Not a site by a fan, per se, but definitely a site for the fans. Back in the summer of 2001, when the TechTV message boards were really bad (and they still need a little improvement), Leo started a message board on his own site which was far better. It grew so much that it had to be upgraded and moved in February 2002. It currently has over 1,000 members, and continues to be the place for fans to talk with each other. The heart of the boards has to be the "Calling Carol" thread, where fans request and provide captured still images of the show.
The woman, the myth, the legend, Stella Marie,
who created a sensation and crashed web hosts left and right.


Patrick Norton hysteria (check out the "hands" gallery)


The fan site of one of Leoville's preeminent citizens.
One Day at TechTV
This site by James K9 has a such a twisted sense of humor, which is why I like it so much.
Leo really liked it too. He put the link to it in his blog of 5.18.2001 on Leoville. Uses photo stills of the TechTV programs and adds his own captions to hilarious effect.


Rachel's official fan site for Megan.

---
---
I finally made a banner, in case anyone wants to use it to link to my site:

---
The following are links to articles containing video clips from the show. If you have a link to a favorite clip, email me.
First TSS episode, part 1 UGM 1.0 May 1998 (UGM 1.0 had a PII 300 MHz processor, and they considered 128MB of RAM to be ridiculous. The state of the art has certainly changed in the last few years.)
First TSS episode, part 2 Kate and Leo dance to MIDI music. May 1998
Interview with Slashdot founders Cmdr Taco and Hemos February 2001>
Open Cola February 2001
Ultimate Gaming Machine 3.0 Core Components February 2001
UGM 3.0 Sound and Video March 2001
Hammersly House Call March 2001
Internet Connection Sharing April 2001
Star Wars Tech Secrets April 2001
Dell Parody Promo July 2001
Dragon's Lair August 2001
Dr. Drew House Call November 2001
Chris Pirillo's The First Leo December 2001
---
The Daily Dish are the articles written about the behind-the-scenes goings on of TSS. The Dish articles originated in July of 1998, but the Daily Dish Archive only lists the articles written since April 2000. The articles are still available; there's just no links to them. For those of you who would like to take a peek into the early days of The Screen Savers, I've compiled a list of the links below. Keep in mind that TechTV may decide to remove these articles from the site, in which case the links will no longer work.
3.1.2000
3.2.2000
3.3.2000
3.6.2000
3.7.2000
3.8.2000
3.9.2000
3.10.2000
3.13.2000
3.14.2000
3.16.2000
3.20.2000
3.21.2000
3.22.2000
3.23.2000
3.27.2000
3.28.2000
3.29.2000
3.30.2000
4.3.2000
4.4.2000
4.6.2000
4.17.2000
4.18.2000
4.20.2000
4.21.2000
4.24.2000
5.1.2000
5.2.2000
5.3.2000
5.4.2000
5.8.2000
5.9.2000
5.10.2000
5.11.2000
5.15.2000
5.22.2000
5.23.2000
5.24.2000
5.25.2000
5.26.2000
5.30.2000
5.31.2000
6.1.2000
6.2.2000
6.5.2000
6.6.2000
6.7.2000
6.8.2000
6.9.2000
6.19.2000
6.20.2000
6.21.2000
6.22.2000
6.26.2000
6.27.2000
6.28.2000
6.29.2000
6.30.2000
7.5.2000
7.6.2000
7.7.2000
7.10.2000
7.11.2000
7.12.2000
7.20.2000
7.21.2000
7.24.2000
7.25.2000
7.26.2000
7.27.2000
7.31.2000
8.1.2000
8.2.2000
8.4.2000
8.7.2000
8.8.2000
8.9.2000
8.10.2000
8.21.2000
8.22.2000
8.23.2000
8.24.2000
8.25.2000
8.29.2000
8.30.2000
8.31.2000
9.5.2000
9.6.2000
9.7.2000
9.11.2000
9.12.2000 What the TSS staff does when their Internet access goes down.(Megan)
9.13.2000 Russ update, the punk of Patrick (Tom)
9.14.2000 Russ recovering from illness (Russ)
9.15.2000 Assorted office happenings (Josh L.)
9.19.2000 Russ writes from home
9.20.2000 Russ plans to build computer
9.21.2000 A fan has a crush on Pat's hands (Russ)
9.22.2000 Problems with a NIC (Russ)
10.2.2000 Russ returns to work
10.3.2000 Extended Play, TechTV name change confusion (Russ)